VuePoints:

Human Capital Management
Kickstart Your DEI Strategy with Data & Analytics Solutions – Enabled by Workday's VIBE Solutions
Driven by social pressures, dynamic workforce paradigms, and competitive advantages that come with diversity and belonging, 95% of C-suite leaders rank Diversity, Equity, and Inclusion (DEI) as a top focus for the near future.1 Data-focused, results-driven, leaders know that cultivating structural, cultural, and empirical change is a journey – requiring the right strategy with impactful tactics to achieve goals. With DEI as a top priority, leaders need tools, framework, and data to connect their aspirations and strategy with results.
Achieving DEI objectives requires the same data rigor around planning, feedback, and accountability deployed to reach sales and product development goals.2 Data drives objectivity, targeted action plans, creates transparency, and enables leaders to analyze data across demographics and intersectionalities – ultimately driving change. By measuring what matters, leaders can track results and adjust their tactics, in real-time.
Be intentional with your DEI Strategy through VIBE
Diversity, equity, and inclusion strategies are amplified with Workday HCM data and analytics solutions. Workday's VIBETM Approach (Value, Inclusion, Belonging, and Equity) supports its clients with their DEI and belonging journey through data dashboards and reports. The VIBE Central diversity dashboard is available for clients to download from Customer Central and migrate to the Production tenant – at no added cost to Workday HCM customers. The reports contain essential workforce diversity data to assess progress in talent acquisition, promotion, and attrition across demographics and intersectionalities – providing leaders with dynamic insights into diversity metrics.
The Workday VIBE Maturity Model
Workday knows that every organization is on a unique DEI journey. To help organizations move forward, Workday has developed the VIBETM Maturity Model. The model is divided into three stages: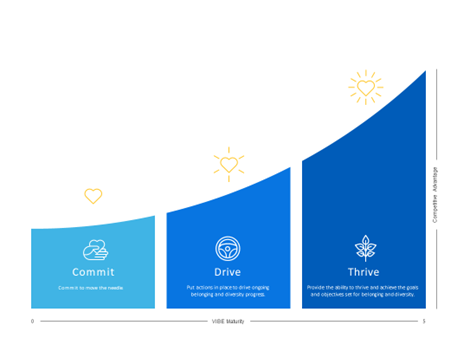 Source: Workday VIBE Maturity Model
No matter where you are on your DEI journey and maturity, Workday's VIBETM solutions kickstart your progress with impactful data and insights.
CrossVue is Here to Help
The key data and metrics leaders require to assess DEI initiatives and progress are available in VIBE. CrossVue's certified Workday HCM consultants collaborate with you to guide you through all the steps to tailor and deploy VIBETM across:
Data prerequisites
Security requirements
Migration and Deployment planning
Knowledge Transfer
Change Management
With VIBE, we can enable the impactful start of Workday's efforts to cultivate a culture of inclusivity for your company.
Want to learn more about Workday's VIBETM solutions? Visit Workday's website.
CrossVue can support your DEI strategies with Workday. Contact us today at https://www.crossvue.com/contact-us/.
Sources
1 How CEOs Can Make Diversity And Inclusion A Priority
2 How to Best Use Data to Meet Your DE&I Goals
Related Content
Human Capital Management
October 31, 2022